ACTIVITIES & THINGS TO DO
Historical places, adventure and leisure – something for everyone.
Tailor-Made for you, by our experts
While you stay with us at SeaShell, we can suggest fun and adventurous activities curated specifically for you by our in-house experts. We have trained guides who are champions of their own field – environmental conservation, marine protection, adventure travel, scuba diving, naturalists, underwater photographers, and videographers. Our specialized chefs will wow your brains with our beach brunch menus and our educators will cater to children of any age and all adults. 
So come on over, let's go exploring and make unforgettable memories!
Trip to Radhanagar Beach – Ranked No. 1 in Asia and No. 8 in the World! 
Take a drive through the ancient forests to the famous Radha Nagar Beach and spend a few hours in these turquoise blue sea, snorkeling with a wide variety of reef fish, stingrays and green sea turtles. Take a stroll on the secluded parts of this beach that takes you across a hidden stream, up high to a cozy spot that overlooks the whole beach and the ocean. Should you wish, get clicked on the beach while the sky lights up with vibrant colours and the sun sets into the ocean. 
Please note – (Professional Photoshoot is at extra charges, normal photos and videos are complimentary)
A Jungle Trek to Elephant Beach
Have you heard of the phrase "Elephants never forget"? Well, here's an activity you'll never forget.
Take a walk through an enormous evergreen rainforest of Havelock Island to reach the pristine Elephant Beach, named after the elephants that once lived and worked in these forests. En route to this beach, you can learn about the flora and fauna of these forests and how the ecosystem thrives on these secluded islands. Elephant beach offers a small respite, but with only us, you can walkthrough further along the beach to reach a secluded Turtle Beach and snorkel for a few hours, learning about the various kinds of coral that thrive in these waters and learn the importance of coral reefs to the fish and us, humans, as well. We'll conduct a picnic on the beach with specially packed munchies from our very own chefs at SeaShell that you can choose based on our picnic menu. 
Please note – (Picnic food is complimentary, normal photos and videos are complimentary)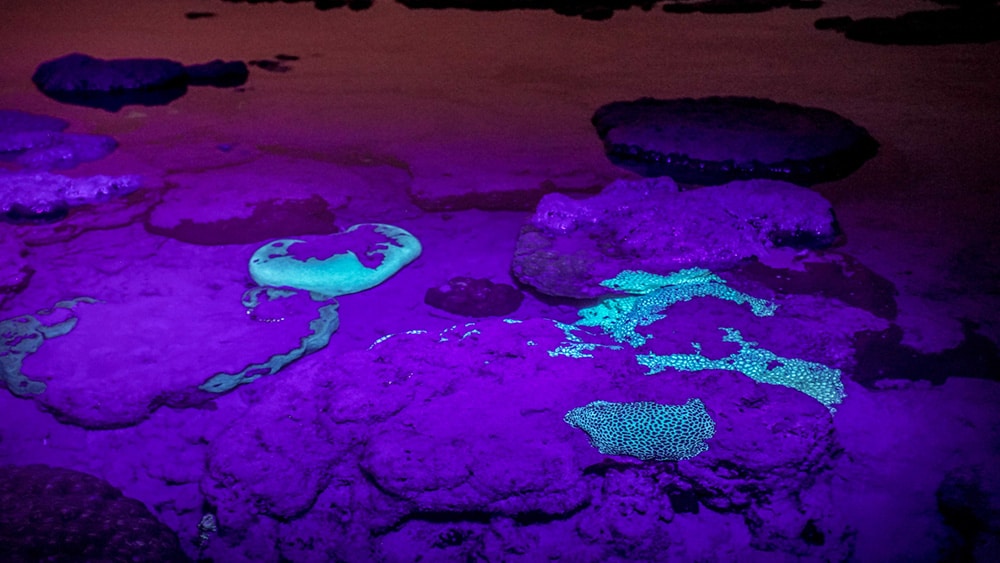 Night Marine Trails to witness a rare natural phenomenon
A whole new host of unique and marine wildlife emerges at night, some that can only be seen during night dives for which one needs a whole set of training. Few creatures that can be spotted during these trails are Octopus, Banded Coral Shrimps, Giant Snails, Red-eyed Stone Crabs, Decorator Crabs, Sea Urchins, Brittle Stars, Eels and so on.
While we spot these, we do a UV fluorescence coral trail, with the help of UV Light to observe the UV fluorescence of corals, sea anemone and some other animals. This experience is nothing less than magical and is a very rare activity as the correct tide and time are available for 7- 8 days in a month.
The Secret Stingray Watch – Shhhhhh!
Did you know Stingrays have been around for over 150 million years? They are often perceived as dangerous creatures but in reality, they are very gentle and kind. Walk along our secret spot to find stingray pups hiding under the sand trying their luck at catching crustaceans. Join us on a unique opportunity to view these pups as they learn basic survival skills, and learn about our different creatures that can be spotted in knee-deep water in the evenings.
Do your own discovery.. ask us and we will be glad you show you the way! 
Visitors are highly recommended to visit Ross Island which acted as the British administrative capital before Independence. An uninhibited island, one can explore the incredible ruins on this isle in a day trip from Port Blair. Since it is prohibited to stay on the island, one must take the last ferry back which leaves at 5 PM.
Be Inspired
Once a year, go somewhere you have never been before
We have full-service dive centers located within the Sea Shell Resorts in Havelock and Neil Island. Join us on insane dive adventures at two of the best scuba diving destinations in the Andaman Islands. There is something for everyone on both these Islands, be it an experienced or first-time diver. All diving activities can be scheduled at the dive center.
One of the most spectacular things about the beach is its shape. The beach is triangular in shape, which can be made out from the aerial view and offers a wide view of the complete horizon when you stand at the tip.The best time to visit Laxamanpur beach is between 3 PM‌ to 5:30 PM, as the atmosphere is great and the breeze is energetic, plus you can also enjoy the sunset before leaving.
The Natural bridge formation in Neil Island is a rock jutting out from the main wall with a giant hole in it created by the continuous lashing waves over the years. The wall alongside bore the brunt of the Tsunami in the year 2004 and protected Neil Island from devastation. In the far corner, another natural bridge formation is underway. The bridge is also known as Howrah Bridge locally, a name given in jest by the Bengali settlers.
Bharatpur Beach is an exquisite white sand beach located approximately a kilometre away from the jetty. It is one of the best beaches to be visited with family as it is a lagoon and has gentle waves coming towards the shore. The sunrise is a mystical treat to the eyes as the beach and sky are covered in beautiful hues.There are also numerous water sports that you can enjoy while you're at Bharatpur Beach. Glass bottom boat rides, snorkeling, and scuba diving are some of the activities that you can indulge in when you're at Bharatpur Beach.